---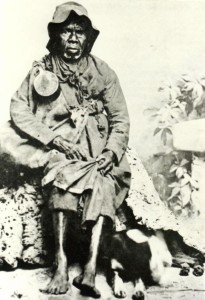 The Pangerang People
The Pangerang people were a nation of sub-clans who occupied much of what is now North Eastern Victoria stretching along the Tongala (Murray) River to Echuca and into the areas of the southern Riverina in New South Wales. Their land includes the Wangaratta, Yarrawonga and Shepparton areas through which the Kialla (Goulburn) and Torryong (Ovens) Rivers flow. The approximate boundaries are south to Mansfield, west to Echuca, east to Chiltern and north to near Narrandera in New South Wales.
Late picture of Mary Jane Milawa of the Pangerang People; Wangaratta Historical Society
---
Explorers
In 1824 explorers Hume and Hovell passed through the area and Hovell observed that '….the land adjoining is exceedingly good with fine hills and grassland, it is as pretty a spot as I have seen since leaving home.'
On November 26, 1824 Hovell named the area Oxley Plains in recognition of the Surveyor General of the Colony of NSW, Sir John Oxley.
The indigenous people of the area did not encounter white men again until twelve years later when Major Thomas Mitchell passed through in October 1836.
---
Early Settlement
The original Milawa hotel – Commercial Hotel (that burnt down) and General store built and operated by Colin Gardner c1870. Shared by Richie Gardener.  The Milawa Gourmet Hotel currently stands in it's location and ancestors of the Gardner family still live in Milawa today.
---
Milawa Cemetery
The cemetery at Milawa is often known as the Oxley Cemetery. It was established in 1864, after considerable discussion about a suitable site. It was expanded in area by approximately two acres towards the west within the first twelve months – Robert Snowdon being the first interment there. The different denominations have their own areas, and all the graves face the east. The cemetery contains a number of European settlers, Aboriginals and Chinese, although the burial places of the Aboriginals and Chinese are not known, many early records having been lost, damaged or destroyed." from Memories of Oxley, p. 46
---
Milawa Town Hall
A Mechanics Institute comprising a free library and a spacious hall opened in 1889.  The Hall is still used today by a number of community groups.
---
Milawa Butter Factory
A dairy company was established in 1891 and by 1896 was one of the biggest dairy companies in Australia (the Milawa Cheese Company now occupies this site)
---
Brown Brothers Milawa Vineyard 
John Francis Brown, aged 18, plants 10 acres of mostly Riesling, Muscat and Shiraz grapes on the Milawa property. Located in the lower reaches of the King Valley in North East Victoria, the Milawa Vineyard is the birth place of the Brown Brothers company. Surrounding the Epicurean Centre and Cellar Door, the Milawa Vineyard is the fruit source for renowned wines such as Patricia Noble Riesling, Shiraz Mondeuse & Cabernet and Dolcetto. It is also home to Brown Brothers' winemaking facilities where grapes are received, crushed and made into quality wine. Read more Brown Brothers Heritage.
---
Milawa Football and cricket began to be played on an organised basis in the 1890s.
---
Milawa was connected to electricity from the Kiewa hydro scheme in 1939.
---
 Milawa Tennis
Milawa Tennis Team. Premiers 1946-47
(left to right) Bernie Rosengren, Bert Clarke, Jack Gardner, Don Gardner.
(left to right) ?, Elsie Clarke, Jean Kennedy, Iona Gardner.
---
St Paul's
[ca. 1914-ca. 1941] "G. E. Roberts, Photographer Wangaratta."http://trove.nla.gov.au/work/167679359?q&versionId=182766177
A violent storm cut a narrow path through Milawa in 1977 and destroyed the Anglican church, tore the roofs from many buildings and destroyed crops. A second storm in 2000 followed a very similar path with similar results. Source: Memories of Oxley, Graham Jones (1995).
---