While there is no formal competition currently being played at the club, four hard courts are available for use at the Milawa Recreation Reserve.
https://www.facebook.com/MilawaTennisClub/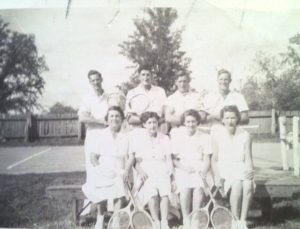 Milawa Tennis Team. Premiers 1946-47
(left to right) Bernie Rosengren, Bert Clarke, Jack Gardner, Don Gardner.
(left to right) ?, Elsie Clarke, Jean Kennedy, Iona Gardner.