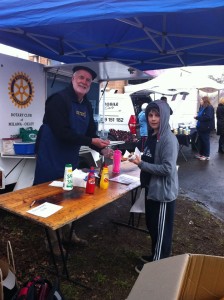 The Rotary Club of Milawa Oxley is only 6 years old, but enthusiastically works together to make a difference to their local communities and the world community. The group meets on Tuesday nights from 6:15pm, at the St Paul's Church Hall Snow Rd, Milawa on the first Tuesday of the month, and the rest of the Tuesdays at the Wangaratta Club, 4 Victoria Parade, Wangaratta.
'Our meetings aim to be full of fun and fellowship, and the children of our members are always welcome to attend any meeting. At the heart of our Club are the service projects. Some are of local benefit such as renovating the St Paul's Church Hall, providing prizes to Milawa and Oxley Primary schools, and funding the Bluearth program into the King Valley Cluster of schools. Others aim to help the international community such as funding a kindergarten in Fiji, building an adventure playground in a remote village in Peru, and raising funds to help eradicate polio. New members are always welcome, contact Melissa Hebbard on 0417368885.'
You can also find the Rotary Club of Milawa Oxley on Facebook.